If you love adventure or you're an adrenaline junkie, surely Jinja, the adventure capital of East Africa has endless activities for you. Famous as the historic source of the Nile River and its rapids, the river displays stunning colors of fading sunsets best captured in person. Get your fix of adventure while in this majestic and natural setting. 
Your tour can be as short as you need it to be or as leisurely as you want it. It's also an ideal choice for travelers with limited time since the city of Kampala or Entebbe is a short 1-2 hour drive from Jinja.
ITINERARY ACTIVITIES TO CHOOSE FROM
This breakdown of activities allows you to see exactly how much time is needed to participate in each excursion. These tours can be a few hours long, a few days or even a few weeks if you have the leisure time to enjoy Jinja "East Africa's Adventure Capital".
Whitewater Rafting the River Nile (8am-2pm)




(all-day / half-day starts in the AM)

Kayaking the River Nile, self or guided (AM or PM)

All-terrain Quad Biking (1-3 hours)

Horseback Riding (1+ hour)

Whitewater Tubing (3 hours)

Stand-up Paddleboarding (2+ hours)

Boat Cruises to the Source of the Nile River




– sunset cruises, party boats (2-3 hours)

Boat Cruises to Samuka Island itineraries

Mountain Biking Tours (2-4 hours)

Zip-lining in Mabira Forest (3-4 hours)

Mabira Forest guided walk (2 hours)

Tours of historical and popular sites (2-3 hours)

Golfing grounds

Fishing Safaris (half or full day)

Family Floats (2+ hours)

Birdwatching Tours

Camping sites with the best views ever

Sezibwa Falls and Itanda Falls Tours, near Jinja

Many hotels in the area have swimming pools, spas, and nightly bonfires

Swimming in the River Nile is always fun!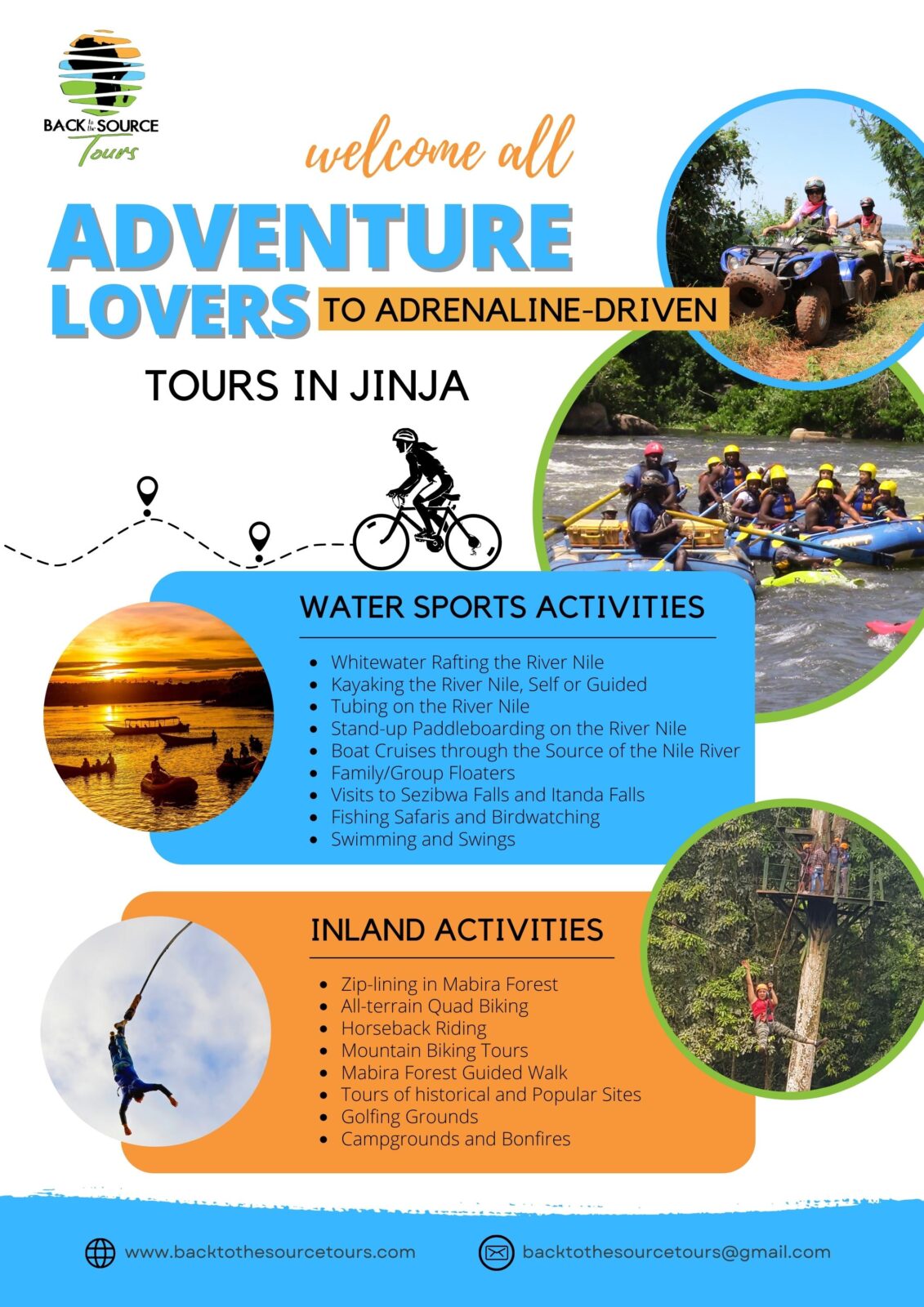 We will plan out the best itinerary for your needs from assistance with flights, obtaining all the necessary permits, passes and visas to completely providing you with the best possible itinerary under the care and safety of our trusted guides. We also provide 24/7 customer service during your safari.  
TO BOOK A TOUR OR A CONCULT WITH US:
Email: backtothesourcetours[@]gmail.com
"Contact Us" for further understanding of your desires.
We are here to serve you via phone calls, emails,  or video conferences. Let us know!