Join this unforgettable journey through western Uganda. This 7 days tour will take you to 3 National Parks all with their different uniqueness. From a priceless close-encounter chimp trekking hike in a rich forest to game drives, a boat cruise, and picturesque views of crater lakes, gorges, and a plethora of nature's splendor.
ITINERARY ACTIVITIES (7 DAYS)
DAY 1 – After a good breakfast, drive to your lodge in Kibale National Park with a stopover in Fort Portal. Reach the lodge in time for lunch. 

DAY 2 – After an early breakfast and a short briefing, your Chimpanzee tracking journey begins. Return to the lodge for lunch, some pampering, and relaxation.

DAY 3 – After breakfast spend as much time as you'd like exploring the nearby activities at the Bigodi Swamp or Butterflies sanctuaries, visit communities, try local foods and other short hikes, and drives of exploration. Return to the lodge for some well-deserved swimming and/or spa treatment.

DAY 4 – After breakfast, drive to

Queen Elizabeth National Park

for a morning or afternoon game drive of Lions, African Elephants, and Buffaloes, Ugandan Kobs, Hippos, Topi, Waterbucks, Warthogs, the Nile Crocodile, Leopards, Spotted Hyenas, an array of birds and so much more.
You will also tour the beautiful crater lakes and view of Kyambura Gorge from atop on the path to reaching your next lodge.
DAY 5 & 6

– After breakfast, take a short drive to your next lodge in or near Lake Mburo National Park. Your choice of activities will determine the day's movements.
– Inside the park lodging: game drives/walks, boat cruise.
– Mbarara lodge: game drives/walks, boat cruise + unique farm activities. (more details below)
DAY 7 – After breakfast, drive to your hotel in Entebbe/Kampala with a stopover at the Equator. 
ABOUT **BIGODI SWAMP SANCTUARY**
In Kibale National Park step into a gem of biodiversity at the Bigodi Swamp Sanctuary, an extraordinary wonderland nicknamed "Home of the Great Blue Turaco". A true haven for bird watchers with more than 200 bird species and 8 kinds of primates.Enjoy a short or long guided nature walk along the breathtaking landscapes, forested pathways, boardwalks and a tree-house tucked high in the canopy.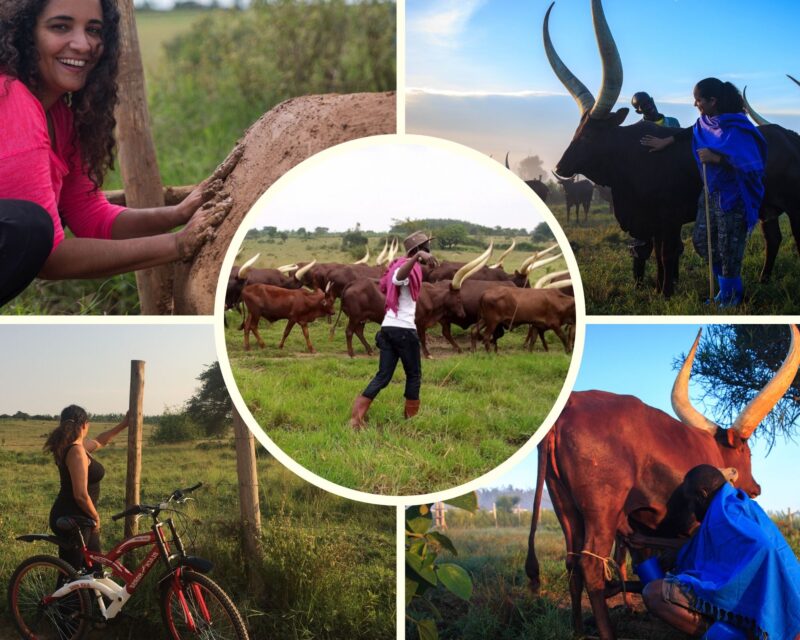 ABOUT **FARM ACTIVITIES at Emburara Farm Lodge**
Discover a sense of tranquillity alongside the farm lodge's well-tempered long-horned Ankole cows. There is a list of morning, afternoon, and evening activities. You are welcome to simply watch the process by the tour guide or participate hands-on. It's never too early or too late to discover new adventures that heal your inner core like these experiences.
Activities include (1)Petting Ankole cows, (2)Milking hands-on, (3)Follow farmers on-duty tours, (4)Be a herdsman, (5)Water trough mud covering, a hands-on muddy activity), (6) Observe and participate in the local milk preservation process, Hike the farm grounds, Visit their vegetable gardens.
Located in Mbarara, 2 hours drive from Lake Mburo National Park.
other tours you can add to this itinerary
 We will plan out the best itinerary for your needs from assistance with flights, obtaining all the necessary permits, passes and visas to completely providing you with the best possible itinerary under the care and safety of our trusted guides. We also provide 24/7 customer service during your safari.  
TO BOOK A TOUR OR A CONCULT WITH US:
Email: backtothesourcetours[@]gmail.com