Get ready for a once-in-a-lifetime journey trekking primates in the Pearl of Africa. This itinerary takes you Gorilla trekking in Bwindi Impenetrable National Park & Chimpanzee trekking in Kibale National Park.
Enjoy several priceless game drives through Queen Elizabeth National Park and the Ishasha region. You'll find an abundance of your favorite wildlife Lions, African elephants and Buffaloes, Ugandan Kobs, Hippos, Topi, Waterbucks, Warthogs, the Nile Crocodile, Leopards, Spotted Hyenas, an array of birds and so much more. Included is a breath-taking boat cruise on the Kazinga Channel.
Throughout this 7-days tour there are several genuine community encounters, visits to crafts, arts, and gift shops. Enjoy cultural dances, authentic foods, storytelling walks and bonfires.
ITINERARY ACTIVITIES (7 DAYS)
DAY ONE: Drive to your lodge in Kibale National Park with an optional stopover in the town of Fort Portal.
DAY TWO: After breakfast you leave the lodge, attend a short trek briefing, and begin your chimpanzee trekking journey with a park ranger.

After lunch, if you're not too tired, enjoy a **Bigodi Swamp walk before driving to your next lodge in Queen Elizabeth National Park in time for dinner and stargazing.


DAY THREE: After an early breakfast, head off on a game drive through Queen Elizabeth NP followed by an afternoon wildlife-viewing boat cruise on the Kazinga Channel. 

Take a short drive to your next lodge in Ishasha. in time for dinner and campfire.

DAY FOUR: After an early breakfast, head off on a game drive in the Ishasha section in search of tree-climbing lions, hyenas and an array of other wildlife. 

Return to you lodge. Enjoy the amenities. Relax!

DAY FIVE: After breakfast, drive to your lodge in Bwindi Impenetrable National Park. 
DAY SIX: After breakfast, head over to the ranger post for a briefing and welcome dance. Begin your gorilla trekking journey.

Return to your lodge for some relaxation and pampering.

DAY SEVEN: After breakfast, enjoy the scenic and wildlife views as you drive back to Entebbe or Kampala.
**Read below descriptions of activities mentioned on this itinerary.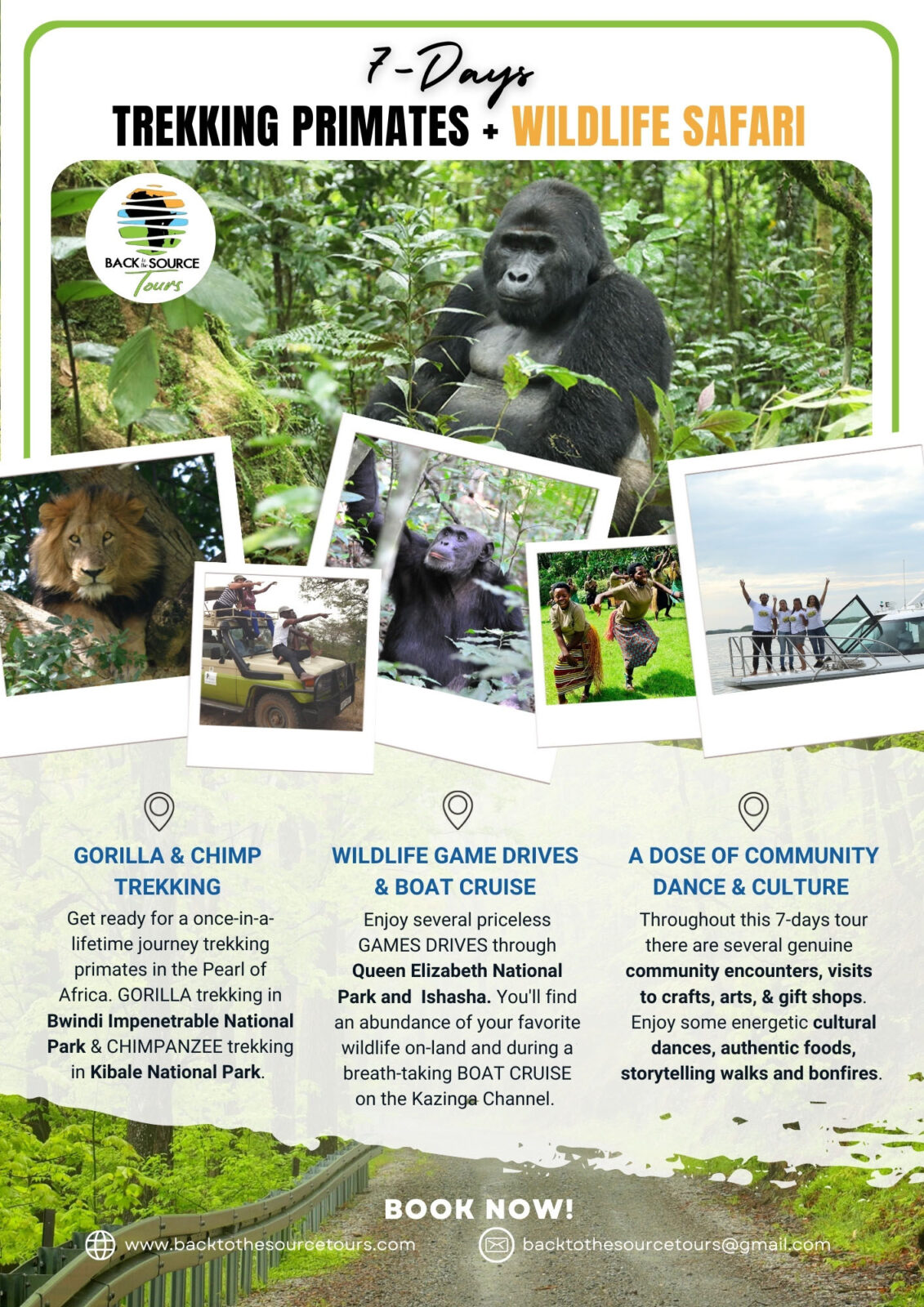 ABOUT **BIGODI SWAMP SANCTUARY**
In Kibale National Park step into a gem of biodiversity at the Bigodi Swamp Sanctuary, an extraordinary wonderland nicknamed "Home of the Great Blue Turaco". A true haven for bird watchers with more than 200 bird species and 8 kinds of primates.Enjoy a short or long guided nature walk along the breathtaking landscapes, forested pathways, boardwalks and a tree-house tucked high in the canopy.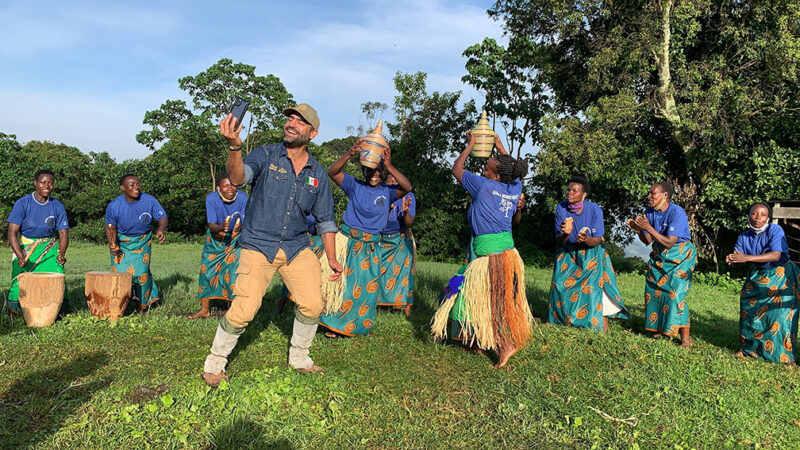 ABOUT **SONGS | DANCE | CULTURE**
On this journey through the southwestern part of Uganda, our guests will experience several occasions of cultural welcome song and dance at the beat of the drums.
Feel the powerful vibrations of their melodies and join in the fun. The dance floor looks better with you on it 🙂   

 We will plan out the best itinerary for your needs from assistance with flights, obtaining all the necessary permits, passes and visas to completely providing you with the best possible itinerary under the care and safety of our trusted guides. We also provide 24/7 customer service during your safari.  
TO BOOK A TOUR OR A CONCULT WITH US:
Email: backtothesourcetours[@]gmail.com

"Contact Us" for further understanding of your desires.
We are here to serve you via phone calls, emails, or video conferences. Let us know!