#1
Bigodi Wetlands is rich in biodiversity, wildlife, and scenic beauty. A 4.5km long walk will take you through this important wildlife corridor of Kibale Forest. The walk can be as short as you want it to be or up to 3 hours all the way through.
This is home to the "Great Blue Turaco", a real bird watcher's paradise. This wonderful place shelters over 200 species of birds including Hornbills, Turacos, Parrots, Cranes, Kingfishers, and many more swamp endemics. The sanctuary is home to 8 species of primates, including the Black and White Colobus, Red Colobus, Red-Tailed Monkey, Grey Cheeked Mangabey, Olive Baboon, L'hoest Monkey, Vervet Monkey, and the Blue Monkey.
The swamp is also a haven for other mammals such as sitatungas, bushbucks, and otters. Local and knowledgeable guides will take you on an interpretive tour as they escort you through the lush vegetation. This is the perfect opportunity to view the wildlife from the forest pathways, boardwalks and atop a tree house tucked high in the canopy.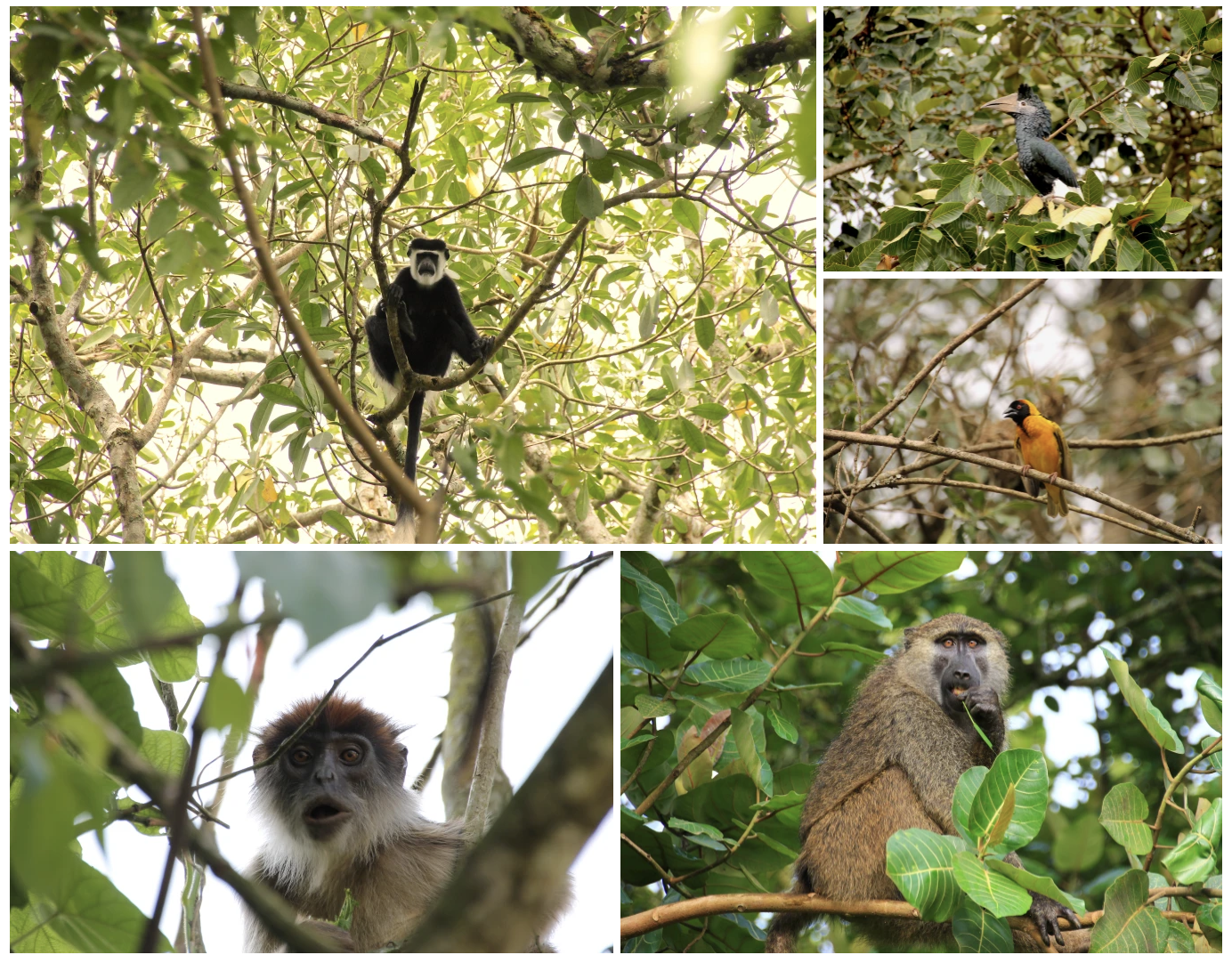 Other community activities:
#2
Combine your Nature Walk with a Cultural Village Tour. Learn everything about Ugandan traditions, herbal medicines, the making of local coffee, and much more.
#3
The Sunbird Hill Experience: Have a peek at Village Conservation in Action with a guided tour of the Healing Garden, Butterfly House, Elephant Deterrent Beehives, and Trenches. Visit the Village Bird Club and walk with an ex-poacher to understand the problem and our programs. This journey begins in the secluded edges of Kibale Forest.
See over 240 bird species, 14 sunbirds, 186 butterflies, and a plethora of dragonflies, reptiles, and amphibians. Enjoy a tea/coffee station and the Bird Hide & Birders Lounge with its fascinating books library on natural history. Must be booked in advance.
#4
Visit The Bee Hive Bar & Bistro opposite the Bigodi Wetlands Sanctuary. This great vibe restaurant and bar is worthy of a delicious meal, appetizer, or drinks. This is a popular stopover among visitors.
#5
To find out more about the Chimpanzee Habituation program in Kibale which gives visitors the opportunity for an extended and more personal involvement in the Chimpanzee Habituation program. Visit our Kibale National Park page. This is an all-day activity.