Our tailor-made itineraries had groups enjoying activities together and separate. The group enjoyed both the city of Kampala, Jinja the adventure capital of East Africa, several wildlife safaris and trekking primates in several parks. After bringing in the New Year at the ever-so-beautiful Source of the Nile, one group of friends headed to explore the southwest while the other group went to the northwest parts of Uganda.
During Koshie Mill's visit, we included the best nature has to offer by taking her to Kidepo National Park in the northeast. We thank our team, sponsors, and partners for a successful project and the memorable journey for all of us.
Below check out the short videos, photo gallery, and stories for more travel inspiration.
Ntare Guma Mbaho Mwine travel group
Ntare Guma Mbaho Mwine as our main guest and project host participated in some unique activities to the benefit of tourism and the entertainment sector of Uganda. As a newly-appointed Cultural Tourism Ambassador of Uganda in North America, Ntare held workshops and meetings with creative communities during his visit. We had a Kampala city tour that included visiting a baby orphanage, attended a special dinner with cultural performances at Ndere Cultural Centre, and attended the ever-so-popular Abryanz Fashion Show. Ntare was a guest speaker and was given the honor to announce an award.
The group headed to Jinja and participated in activities like whitewater rafting, zip-lining, and for some a special lunch at Wildwaters. The safari journey starts with a tour and lunch at the Ziwa Rhino Sanctuary en-route. We enjoyed all that Murchison Falls National Park has to offer from morning and evening game drives, a boat launch, and a fabulous 45-mins hike to the Top of the Falls. Some enjoyed sunsetting and swimming at the hotel's infinity pool.
From our travel initiative a film project was born thanks to Ntare and his friends:
Ntare started a $1,000usd film competition to benefit local Ugandas which quickly grew to raise over $10,000+. To date, Ntare and his friends have raised well over the target for this campaign. 
Check out the Kickstarter for the #ThisIsUganda film competition. https://www.kickstarter.com/projects/34545931/this-is-uganda
Ntare Guma Mbaho Mwine is raising funds for "This Is Uganda" on Kickstarter! Short Film Competition
 Follow: #BewareofTime #NtareGumaMbahoMwine #BacktotheSourceTours
Ntare's travel group sponsored by the Back to the Source initiative also included influencer/songwriter Carly Yashira and wellness influencers Brenden Durell and Shannon Amos. It was also a great pleasure hosting media mogul Koshie Mills. Check out their experiences below.
Koshie Mills Visits Uganda
A short but priceless trip, Media mogul Koshie Mills visited early December 2019 on a duo tour and fam trip. We took a cultural/historical journey from Murchison Falls National Park to Kidepo National Park via the stunning views from the air. We did game drives in both parks and enjoyed a boat cruise to The Falls. Afterward, we drove to the historical slave trade site of Fort Patiko.
The best ending to the tour was an emotional encounter with a Karamajong community which included a community tour, heard stories of their culture and daily livelihood to include dance performance that got Koshie on her feet while experiencing an emotional moment.
Tourism is big business. Globally, it accounts for more than 10% of GDP. According to the World Travel & Tourism Council, 1 out of 5 of all jobs created in the last 5 years was in tourism. But on the African continent, it accounts for only 3.6% of GDP.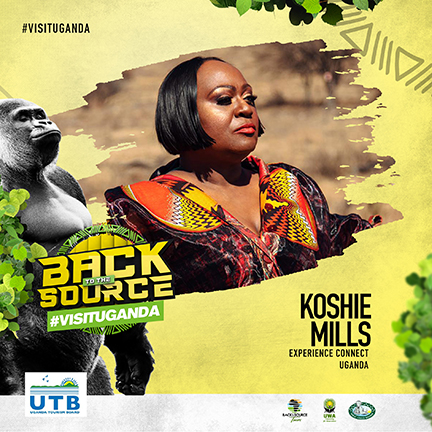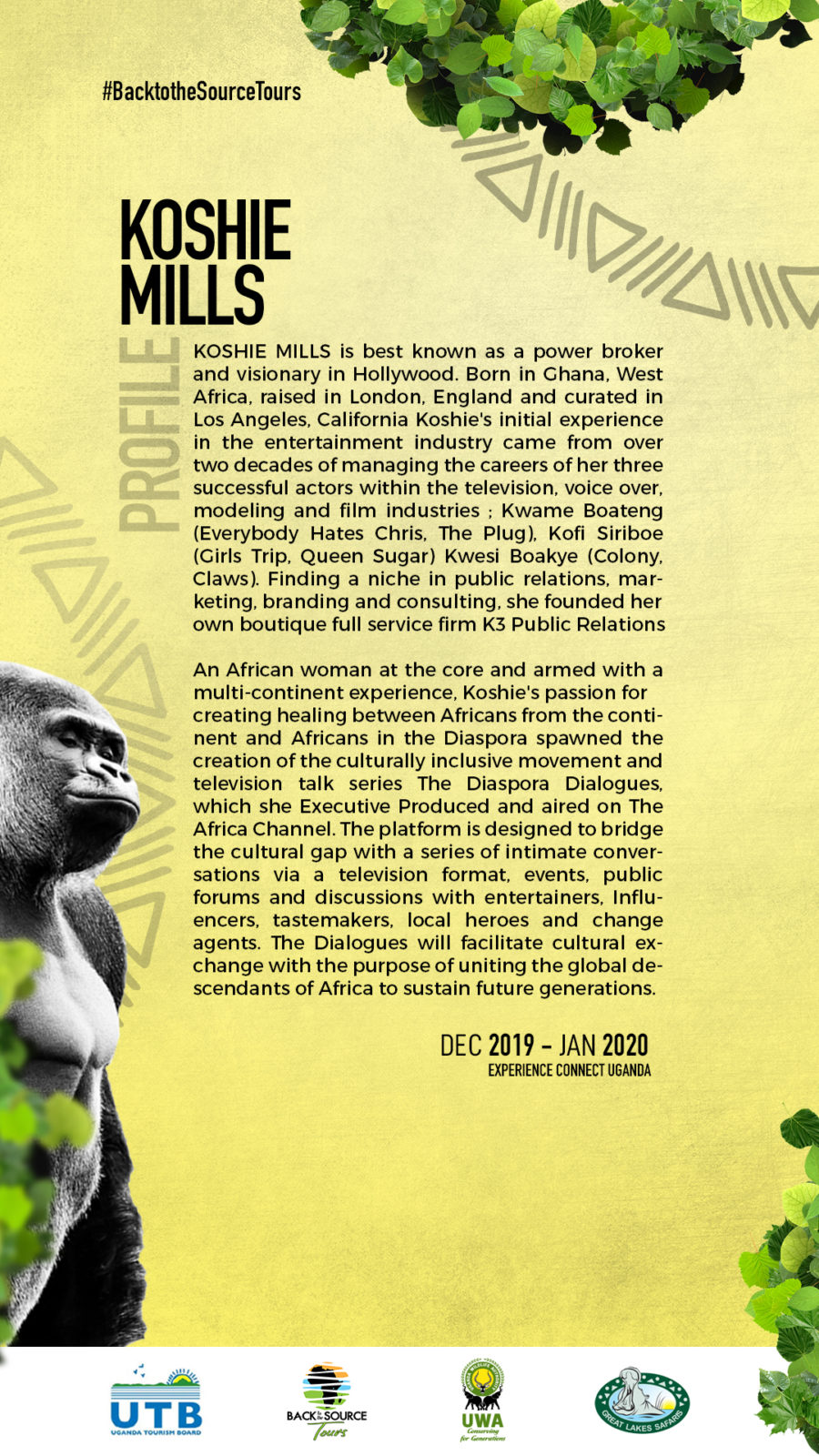 Check out her Forbes interview where she talks about her Uganda visit.
#KoshieMills #DiasporaDialogues #KonversationsWithKoshie
Brenden Durell, Shannon Amos, and our very own Carly Yashira Visit Uganda
Carly Yashira, Brenden Durell, and Shannon Amos and the rest of this traveling group explored the boosting city of Kampala, trekking, and wildlife game drives. We toured historical sites on a double-decker tour bus and that evening attended a special dinner with cultural performances at Ndere Cultural Center. The perfect travel dates allowed for the group to attend VIP-style to the ever-so-cool annual Abryanz Fashion Show and a popular music concert with singers like Jidenna. The tour included a boat cruise to Ngamba Island Chimpanzee Sanctuary crossing the Equator over the waters of Lake Victoria.
A few went on a separate and fabulous tour of Murchison Falls National Park that included trekking chimps, a game drive, and a unique hike to the Top of the Falls after the boat cruise.
The group headed to Jinja for some adventure with whitewater rafting and a New Year's boat cruise before heading off on a western safari to Kibale Forest National Park and Queen Elizabeth National Park. The journey in these two parks included chimpanzee & lion trekking, game drives, and a fun boat cruise with MV Kazinga. This itinerary ends with a drive to Bwindi Impenetrable National Park for a priceless gorilla trekking excursion and flying back to Kampala on a private charter with spectacular aerial views.
This initial "Back to the Source" travel group campaign kicked off in December 2019 to promote destination Uganda, the Pearl of Africa alongside sponsors Uganda Tourism Board, Uganda Wildlife Authority and Uganda Lodges.

The campaign was a tourism marketing initiative created, organized and semi-managed by the Back to the Source Tours team. We aimed at promoting African destinations and a diversity of activities (culture, community, adventure, city, religion, wildlife, theatre) to the African Americans in North America through influencers/ celebrities and seamlessly planned group trips with paying guests as well.
The initiative included incentives to promote real-time social media posting with the proper tags, mentions, and hashtags.
This initial "Back to the Source" travel group campaign kicked off in December 2019 to promote destination Uganda, the Pearl of Africa alongside sponsors Uganda Tourism Board, Uganda Wildlife Authority and Uganda Lodges.
A special thanks to all who participated! To our influencers and their traveling friends, thank you for trusting us with planning your perfect vacation and for sharing your journey within your community.
A shoutout and huge thank you to our supporters, sponsors, and team both in the US and in Uganda. Here is a list of the team in no particular order.
Ministry of Tourism and Antiquities, Primate Lodge -Kibale, Elephant Plains Lodge, Pakuba Safari Lodge, Hotel No. 5, Clouds Mountain Gorilla Lodge, Apoka Safari Lodge, Bromelia Guesthouse, Ngamba Island Chimpanzee Sanctuary, Nyanza Evergreen Waterways, Aerolink Uganda, Jinja Nile Resort, Emburara Farm Lodge, Gorilla Africa Guesthouse, Abryanz Fashion Show, Talent Africa Group, Ndere Cultural Center, MV Kazinga, Superstar Filmz, Loukout Films, Kingfisher Resort Jinja, ADrift Jinja, Apple Works Ltd., RockFilms, Daraja Law, METImages, Ltd., Chef Zein, La Patisserie, Xara, Le Gourmet, Kampala National Theatre, Colours of East Africa, Katharina Beltram, DJ Paul, Galarie Inc., Live on Camera Media Group, Ng'aali Inflight Magazine, Conservation Media Camp(CMC), Bavubuka Allstarz Foundation, Design Kings, General Elly Tumwine, Prince Hassan Kimbugwe, Prince Andrew Tendo, Piero Marsiaj, Solomon Mario Oleny, Anthony Kay, Mark Anthony Williams, Martha Mukisa, Nana Kagga, Kisuule Sulaiman, Eriya Ntulume, Carly Yashira, Apollo Karemera, TJay Martinez.
Information for the traveling group:
Transportation to and from the airport. You must provide us with your travel itinerary. 

Our tailored approach for this group trip will include a location where the group can meet-up, catch-up, plan together, share stories, and mingle.

We aim to keep the group together by staying in the same hotel and/or vicinity if there is an overflow of space. You should make your reservations as soon as possible to secure your spot especially with things like trekking and booking rooms in the designated group hotels.

All safaris will include transportation, tour guides, park rangers, porters, park fees, trekking permits, and full board accommodation.

The group will be special guests at a cultural dinner with music, dance, and artistic expression.

We have designed packages outside the norm giving you a great insight into Uganda's rich culture, booming night scene, artistry shows, and many adventures.

The theme of this group trip is "culture and community". During your visit, we will make stopovers showcasing these sectors.

The group will enjoy bringing in the New Year with a specially planned boat cruise gathering. This is optional of course.

We have taken special steps to assure that anyone with limited mobility can also have a great journey. Please inquire.

Kids are welcome. Let us know if you are traveling with children so that we can best plan your journey. Supervised babysitting services can be provided depending on the age of the child during the city stay. Please inquire

Travelers will be provided daily itineraries and information sheets to guide you each step of the way.
Don't worry about having to capture your special moments yourself. A photographer and videographer will be with each tour to capture your priceless moments whether alone or as a group. Photos will be available to you at no cost in real-time and post-trip in a complete gallery.
The group will take advantage of discounts and freebies throughout their trip thanks to our awesome sponsors and partners.
"Some beautiful paths can't be discovered without getting lost."